1/30/2007 - Oh Where Oh Where Is Our I171H?

Just wanted to give you a quick update here...as of today, we still have not received our
USCIS
approval. I am getting very anxious here!
1/30/2007 - I am Wireless!
YES! I am wireless! It took me only two phone calls to make...one to Dell and one to Verizon & I was connected at 6:52 this morning! Now it is just a matter of time until I get used to typing on this thing & loading up all other programs...digital cameras, DVD recorder and printer. I do love the freedom of being able to work from any where in my house (and that I can take it with me to China). Mommy is getting there, Janie!
1/29/2007 - Already buying with Janie in mind!
I have been looking everywhere for a table & chairs set for Francesca to use while playing downstairs, but I wanted a set that would be useful for when Janie comes homes (even thought I know it is a long time from that happening...). Last night, Dad, Francesca & I were looking on the computer and found this Disney Princess set that Francesca fell in love with (Mommy and Daddy did too)...so I ordered it. It seems to be of average size and can accommodate children ages 18 months and up. Francesca does have another table & chairs set that Grandma purchased for her (it is a beautiful, natural solid wood set that is built to last a life time & than some...), but that is in her Winnie the Pooh bedroom. We were trying to decide if we should get the Pooh set (yes, they had one too) or the Princess set & we decided on the Princess set. This way, if we ever decide to change the theme of the girls' room to the color pink or purple...or make it a Disney Princess room, the table & chairs can be used in their bedroom and the other set can be moved to the play room. Here is photo of the Princess set below. It truly is adorable!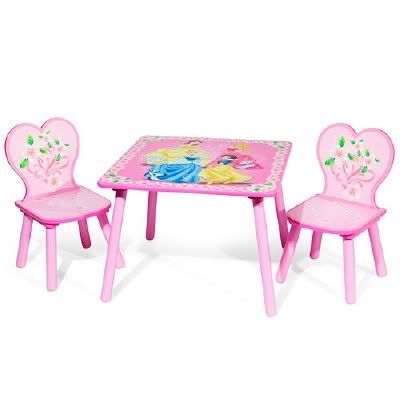 1/28/2007 - Nesting?

Am I nesting? Well if I am in the nesting stage of this whole process, we have a long way to go...
This weekend was the start of our official total clean-up! It all
started
this weekend in the attic, which now looks 100% better (we have a ton of stuff to donate this year). You can actually move around up there without falling over anything! Next weekend is set aside for finishing up the bathroom (yes, the same one we have been working on since Francesca's referral) and remodeling our bedroom and closet area. We really need to get this house in order.
So according to Daddy, Janie...Mom is in total nesting zone! (and I think I am driving him crazy !!!)
1/26/2007 - Still no I171H/797C, but here's a little something for you to enjoy!
How did she ever fit into it?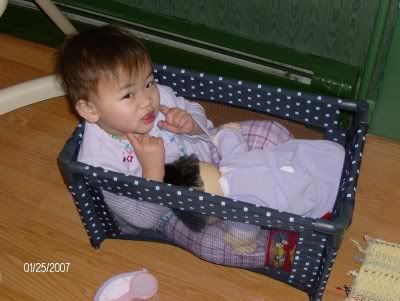 An Invisible Red Thread...

" An invisible red thread connects those who are destined to meet, regardless of time, place, or circumstance.The thread may stretch or tangle, but will never break." An Ancient Chinese belief ...


1/25/2007 - Still no USCIS approval today but....
Today still no I171H/797C approval in the mail, but I did purchase myself a new Dell Inspiron 1501 notebook with wireless connection and a whole bunch of other stuff! This way I can access the Internet any where from the house...and even outside in the back yard! I also called Verizon about updating our service to wireless and that is schedule to arrive by next week (while the notebook won't be here until the first week of February). I am so excited! I am going to keep my desk top, but I am thinking about moving it upstairs and finally getting rid of this huge computer desk we have. I also just recently purchased a new printer that is also wireless, so I am ready to go! (plus I can take the notebook to China with me and have total access to a computer in our room...and I should know how to work it by that time!


1/25/2007 - ABC - All About Me!
I found this on a friend's blog and decided to play along.... (can you tell this waiting around for our USCIS approval is getting to me!)

ABC - All About Me

A - available or taken: taken
B - best friend: Well, I have a few...my longest (since grade school) & dearest best friend, Gina...my craziest best friend, who always makes me laugh Danielle aka Zippy...the one that I have only known for a short time, but have become extremely close to, Amy...my sister, Lisa, who I love so very much (even though we don't always get along)...and my best-est friends ever, my Mom and hubby!
C - cake or pie: depends...which kind? Can't I have both?
D - drink of choice: Anyone that knows me knows this answer, coffee with a little bit of sugar and half n' half.
E - essential item that you use everyday: My makeup. (especially my philosophy "supernatural powder" and "a few good men" lip shine! )
F - favorite color: blue...any shade!
G - gummy bears or worms: I love the sour ones, so it really doesn't matter.
H - hometown: Born in Peckville PA, lived just outside our nation's capital, and now I currently reside in another DC... back in PA.
I - indulgence: My new SUV...Land Rover LR3 (actually it was a gift from my hubby) and our vacations!
J - January or February: January because it is the month of my daughter's birthday!
K - kid's names: Francesca Mei and soon...Janelle aka Janie
L - life incomplete without: My family & friends!
M - marriage: September 25, 1999
N - number of siblings: one sister...Hi Lisa!
O - oranges or apples: I love oranges & granny smith apples!
P - phobias or fears: Bees! & Scary movies (even though I still want to watch them).
Q - favorite quote: "After all...tomorrow is another day." The very last line in my favorite movie, Gone With The Wind.
R - reason to smile: my daughter & husband
S - season: I totally love Autumn...the smell of fallen leaves, apple and pumpkin pies, that crisp chill in the air and all the colors! I also know that Thanksgiving and Christmas are coming soon.
T - tag 3 people: My husband, Francesca and me!
U - unknown fact about me: I can be a really nice person . No really, I think I suffer from OCD and need some professional help, but I think that everyone that knows me...knows that!
V - veggie I don't like: Where do I start...
W - worst habit: Reading Romance/Mystery novels...I have an addiction. I could read all day long...again need professional help!
X - xrays: My right foot.
Y - your favorite food: 99% of what my mom makes.
Z - zodiac: Pisces






1/25/2007 - Decided not to fax our "almost completed" dossier...
I was all set to fax our "almost completed" dossier yesterday to CCAI when I thought to myself, I better call and find out how much it is going to cost...luckily I did! It would have cost me over $85 (59 pages at $1.50 a page...you do the math). So, Grandma is making me another set of copies today & I am going to mail it to them. It is going to take a little longer to get there, but I don't care...I am not spending that kind of money just for a fax!



1/24/2007 - Back to the adoption...
As of yesterday, we have not received our I171H/797C approval from USCIS. I know that in expecting it to come this soon would be a miracle, but how wonderful it would be. Also, Grandma wasn't able to fax our "almost there" dossier to CCAI. First of all there are over 50 pages to fax and second, it is not an 800 number (meaning it is not going to free). So, Francesca and I are going today to Staples to have them fax it! Hopefully, Francesca will behave while it is being done! (we just never know with her... ! ...that's her being silly, than her not so sure on what to do...and her after I have to "have a little talk with her")


1/24/2007 - I FINALLY GOT IT!
After a long night of not getting any sleeping, I got up this morning to check on the photos I posted to the journal yesterday...and YES...they are still there! I finally got the hang of this! I did a little more research yesterday & found another photo hosting site, that offers limited free photo hosting and upgrade packages (which you pay for, but isn't expensive) that I can also use in the future. I am so proud of myself. I have been trying to post a family photo, directly from my bloggerteam account to go into our profile, but it is not working for me. I have the photo within the guidelines that are required, but it is not uploading...going to keep trying.



1/23/2007 - Looks like I got it, but trying it one more time!
OK...looks like I got the photo upload to work...using another web site for hosting my photos...but just to be sure, I am going to try posting another! Let's hope this wasn't just beginners luck!
Francesca and Honey Bear!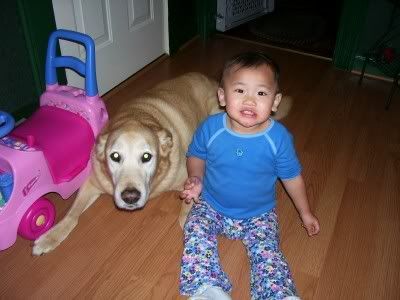 1/23/2007 - trying to upload photos...cross your fingers!
Francesca waiting for her lunch!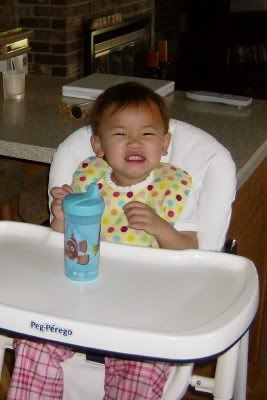 1/22/2007 - 98% of our documents are totally ready!

YES! 98% of our documents are ready for our dossier...YIP
PEEEEE
! Now, that's the good news, the bad news is that we are still waiting on our I171H/797C approval to arrive, but seeing how Amy & Owen's fingerprint appointment is not until the beginning of next month...I am in no hurry. We did receive our documents back from Legal-
Eaze
(the courier service) from the NYC Consulate today and your grandma & I made two sets of copies that are needed when we submit (actually, we only need one set of copies to send with the dossier...the other set is for me...and for grandma to fax tomorrow to
CCAI
, for the third time, make sure everything is correct).
I am going to have to find another blog site to finish this journal. I am having major problems with uploading photos & I have tried everything with no success. I have been reading a lot of blogs on
blogspot
and it looks very easy. I am going to give it a try once we get out dossier logged in. I am still going to keep this one as well, but just not post to it. You know when I started this blog-thing...I really didn't know what I was doing, but after seeing other blogs out there...I really need to get my butt in gear & start making Janie's better.
As for you, my little Janie, I can't wait to get this paper chase over & done with and our dossier logged in with the
CCAA
. It look like it is going to be some time in March before our LID will happen. We are really working with the Weaver/
Winkler
family in making this adoption...like the first and since they have a little hold up...we will wait! Well, it is getting late & my fingers don't seem to want to type any more, but I love you so much & think about you always!
Love, Mommy
1/20/2007 - Happy Birthday, Francesca!

Happy Birthday to you, Happy Birthday to you, Happy Birthday dear Francesca, Happy Birthday to you!

Yes, today is Francesca's 2
nd
Birthday! We can't believe how the time has flown by since she has been home. I think the wait this time is going to be easier, but than there are days, that I know it is going to seem like forever...in bringing Janie home (rumor has it that it is now taking 16 months from LID to referrals...that's a long time...)
1/10/2007 - We Got Back Our Documents from the PA State Department!
About 1:30pm today, FedEx dropped off our documents from the courier service we used for the certification of the documents that were sent out! Nine documents were certified from Pennsylvania and 2 more have been already authenticated from the consulate in Washington DC! The ones that we received today will be sent to Legal-
Eaze
(our courier service for the NYC Consulate) for authentication...and than only two documents left (our
financial
statement and I-171H approval...first notarized, than certified...and last authenticated). I am dropping off (at
FedEx's
drop box) the certified documents from Pennsylvania this afternoon for the authentication to begin in NYC...almost there!
1/3/2007 - HOME STUDY COMPLETED!!!!!!
WE JUST GOT NOTICED THAT OUR HOME STUDY IS FULLY COMPLETED AND WE RECEIVED TWO APPROVED COPIES IN THE MAIL TODAY FROM
CSS
...YEAH!!!!!!!!! So at this time, I am starting the certification process (Pennsylvania documents will be FedEx out today to the courier service in Harrisburg). The only two documents that are not included are our
financial
statement and 171H copy of approval. According to
CSS
, a copy of our home study was sent to INS last week...now it is just waiting on our fingerprints to be released! I can't even tell you how good this feels!
Amy & Owen are also moving along with their dossier as well. They are schedule to have their fingerprints done within the next two weeks. From what the two families are thinking...we'll be wrapping up the final touches on our dossiers at the same time next month (which has been the plan all along).
As for you, my little Janie...there was time that I, your mother, wanted to give up! This whole process has been very hard at times, especially with our home study. Your father is a wonderful man & I owe so much to him! He had faith in me to get your dossier in order and encouraged me every step of the way! I can't speak for myself on parenting skills, but your father is one of the best!
Love, Mom
12/18/2006 - Still Waiting on Home Study.....
OK
, it is now December 18
th
& we are still working on finishing up our home study....it is totally crazy! We had our final meeting with Janet on Friday, December 15
th
, and all she needs is two more documents from your Aunt Lisa & Uncle Scott to hand over the finish product. We are very anxious to get this dossier completed and get a log in date. The
CCAA
will be making some new changes in the regulations on adopting from China...and rumor has it that it will take place May 2007. If these changes do take place, your
father
& I will not qualify for the adoption. So it is very important that we get this paper work done and logged in!
I'll be keeping you posted as what happens this next week as far as the
home study
goes....after that we have to wait for our fingerprints to be released (I171H approval) and finish getting the other documents (Pennsylvania ones to be exact) certified and
authenticated
.
11/22/2006 - SURPRISE! Already received back our DC Documents!!!
Surprise, surprise! We received Keith's employer's letter and birth certificate back from The Chinese Embassy in Washington DC yesterday (November 21st)....stamped by the Secretary of State and the Chinese Embassy! I wasn't expected them for at least another week, but here they are....one less thing to worry about when away at Disney. Now, if I can only speed up our home study....I am really hoping that will get completed soon......Keep you fingers crossed!