While we were visiting Katie's house, Francesca got to ride her very first tricycle! It took her a little time to catch on how to work the pedals and handlebars, but once she got her groove on...she was actually riding the bike "all by herself" (and doing a great job at it as well). So when we got home, I just had to go out & get her a bike of her own. After it taking Grandma & I over an hour to put the bike together today...she was ready to ride!
I would have never thought she was ready for riding a bike at her age (she'll be three in January), but after some encouragement from Aunt Amy...telling me that it is going to be OK (I was so nervous and thought she was way too young to be riding a bike YIKES)...and from her really wanting try to it...she was actually riding the bike within minutes (Daddy did a wonderful job at showing her how its done).
Being the nervous mother that I am (I would have never thought I we be the like this...I was always the wild & crazy one), I didn't get any photos of her actual first spin on Katie's bike, but I do have photos to share with you all of her second spin on her bike.
And away she goes...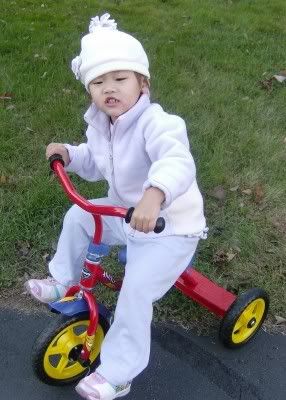 ("hey mom, it is hard to say 'cheese' and smile while trying to ride my bike")