(and no, it is not another vacation)...it's our family Christmas photo cards! It is getting harder for me every year to decide what photos I want to use! Since I really only put Francesca & Honey on them, I was taking photos of the two of them the past few weeks. Out of 87 photos taken, only one...ONE...came out pretty good (if it wasn't for the reflection from the flash on Honey's eyes).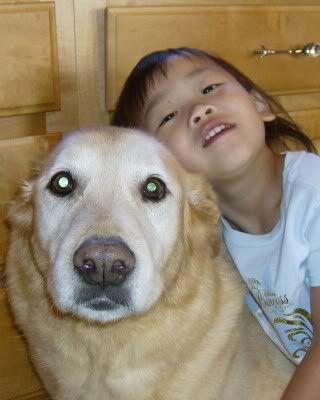 (it is such a great photo of my two babies that I am now using it as our profile photo here!)
Last year, I started this whole process way too late and while I loved the way the cards came out...I knew if I started it earlier, the cards could have been much better. After working on this project for the past few weeks (as mention earlier...) I finally have the finished product. The only thing is that Honey won't be in them this year. He totally refused to have his picture taken any more...so it will be Francesca only (Honey would actually turn his head the other way whenever I would take out the camera).
(last year I used an online company that designs & prints the cards out for you...all you needed to do was send them the photos, but this year I am going to try to do it myself...that's one of the reasons why I am starting so early...I'll keep you posted on how the process is going...(and I might be asking for help.) Wish me luck!
and if you can believe...I have already started my Christmas crafting. At the end of the season last year, I purchased a ton of Christmas crafting items to design and use as gifts. I have been hard at work these past few weeks & it has been a blast...especially since Francesca was so wanting & willing to help me this year with the crafting & designing! And I know some of you may want to sh**t me when I say this, but I am 98% finished with my Christmas shopping for this year. (if you are wondering how...I am one of those people who shop 'all year around'). Do you think I have Christmas on the brain? Christams cards....Christmas crafting...and Christmas shopping...I do have to admit...I have Christmas on the brain!