I am finally getting around to posting our Easter weekend photos from our visit to Washington D.C. We took a ton of them...so what I have to show you today is only a small fraction (and still there is a lot). Anyway we had a great time with Papa and Grandma C. and all of the Leonard family!
Saturday afternoon, the day before Easter Sunday!
Waiting for Papa and Grandma C. to arrive (and entertaining ourselves). Francesca is doing the balancing act!
Mommy playing catch with Francesca (while we are still waiting...)
Now Francesca is done with playing catch and onto collecting sticks (which she did a lot over the weekend).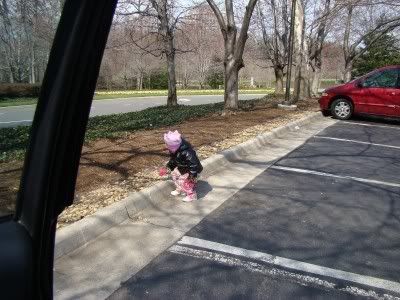 Mommy and Francesca!
Finally, Papa and Grandma C. arrive...and here is Francesca opening up her Easter gift from them!
(with no help from Daddy)
Being silly with Grandma C.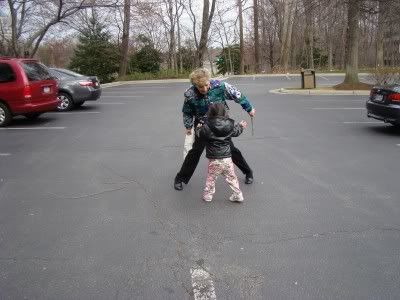 later that afternoon...at the Mandarin Oriental Hotel in D.C...
with Grandma C. and Papa
having some cocktails...
Easter Sunday Morning!
"Just me and my Dad!"
Our little collector of sticks!
(check out the pile she made...on the right hand side of the photo...)
Francesca with her Bunny glasses on from Papa and Grandma C.
Since it is my Dad's birthday on the 7th, Francesca made sure we had his present to give to him.
(yes, it is a Nascar clock)
Papa and Francesca!
'Almost' the whole lot of us (minus Keith who was taking the photo)
Francesca just having some fun before saying our goodbyes as Papa & Grandma C. head home to the beach...
Easter Sunday afternoon with the whole Leonard gang!
Grandma Shell (that's me) with our grandson Austin and Francesca...
Our daughter Amanda and baby Austin...
Our nephew Matthew being funny with his Uncle Keith!
Keith's twin brother, Russell, and his gang!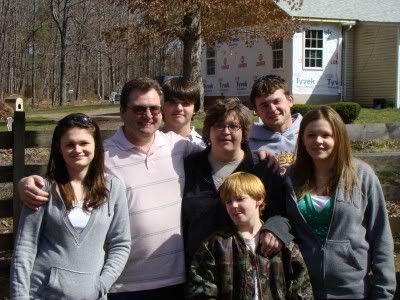 During the Easter egg hunt, Francesca needed a little help with getting around..."Never fear, Uncle Russell is here to carry you!"
Little Nathan so excited he found an egg with $5 in it!
The boys...and yes, our darling Francesca...playing football!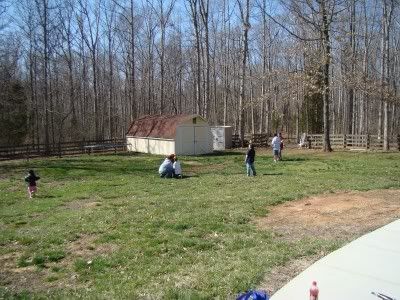 (that's her on the left wearing the black coat, away from all the action)
OK...now she in on the action...
(she was the "Ready, Set, GO!" girl)
Francesca and Ringo bouncing around...
"Do you think we can climb it?"
"I'm Queen of the World!"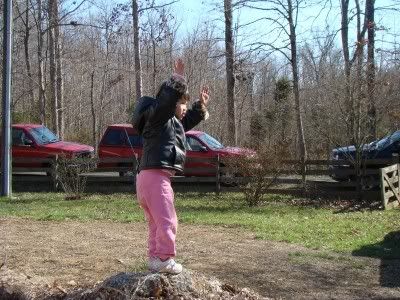 And finally our last photo of this post...
Grandma Shell and baby Christopher (Ashley's little boy)
By the end of the day, we were all tuckered out and headed back to the condo from some quiet time before bed! As you can see, we had an amazing weekend...and we are off to D.C. again this coming week for a wedding...it is a long drive with just Francesca and me, but she is so good in the car that the 6.5 hours it takes us to get there (with all the stops along the way...) is something I actually look forward to. To me, it is some great one on one time with my little girl...which I love!