Since we are going to D.C. next weekend, the Easter Bunny came a little early to visit Francesca. When she woke up from her nap today, she found bunny tracks coming in from or back door leading all the way to what the Easter Bunny left for her...She was so excited and just loved the tracks the bunny left!
Here is where the tracks started...
(I didn't get her actually following the tracks to her Easter gifts, but she was still so excited that she couldn't stop following them all around the house...here are a few photos of her having some fun with the bunny tracks...)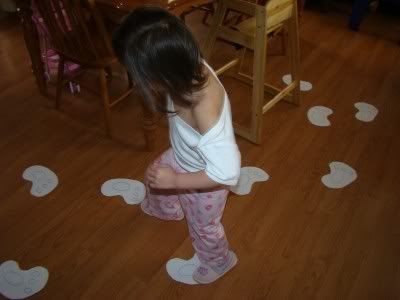 Francesca showing off what the bunny left for her...Little Einsteins sticker book and Candy Land board game!
Isn't she just beautiful!
*We are going to be coloring Easter eggs later tonight so be sure to check back later this week for those photos...*