The weather here in northeastern PA has been either super nice or total rain. The past two days have been nothing but rain here. But that rain didn't stop Francesca from having some fun inside (and keeping dry).
Having some fun with her baby's stroller...(yes, she did strap herself in).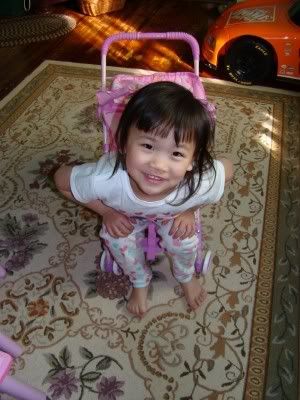 We have been keeping busy (during the rain) with playing some board games (a favorite of Francesca's), working on her flash cards, and listening to her story reader book.
Today was an extra special day for we took Grandma out to lunch in celebration for Mother's Day (long very story short, I don't like going out on Mother's Day...for many reasons!) Grandma choice this year was Cooper's Seafood Restaurant. The restaurant is built to like a sea coast light house and giant pirate ship with tons of stuff decorating the walls of life at and in the sea. We were very lucky to be seated in the "train room" (our area is known for its trains) and Francesca had a blast. Our booth was right next to the giant fish tank and with the train traveling around on a suspended track from the ceiling....she was in heaven! (not to mention the ice cream and sprinkles she had after her meal). It was a super special day for us "girls" of totally dressing up, eating some great food, and just having fun!
Francesca...all ready for our girls' day out dressed in her new Cinderella dress from Grandma.
(isn't she just beautiful!)
I also have to mention that my darling Francesca actually sat through the 2 hour lunch today without any problems! We never had a problem with her and eating out, but 2 hours and no problems....that amazes me! I can't tell you how proud I am of her....