with Astor chocolates!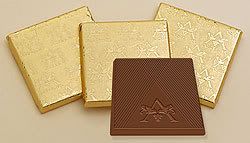 We first had a chance to try these tasty little treats while on our last visit to Disney. During our stay at the Grand Floridian, our room was stocked nightly with pieces of this chocolate & and from our first bite, we were hooked! (and me not being a chocolate-junkie...that's saying a lot). So when we got home, I checked out their web site
www.astorchocolate.com
and ordered some for our household. It has now become a tradition where Francesca & I would share one piece each, every afternoon of this mouth-watering, delicious chocolate. It is a moment of our day that I truly treasure.