Francesca started off her Halloween celebration with getting into her Minnie Mouse costume and heading off to school (that is only across the street and 4 houses down from our's) for not only a Halloween party, but a birthday party for one of her classmates, and a Halloween parade. Last year, her school had the Halloween parade, but I stayed inside our house & watch the kids go by...(I was so worried that Francesca would see me & start giving her teachers a hard time about wanting to come with me), but this year, I knew she would not give her teachers any problems. So, my mom, my aunt, & I waited until 11AM for the parade to start! Francesca was so excited to see us at her school, but was also so worried that I was taking her home before she got to do the parade. After reassuring her that she was going on the parade walk...off she went with her teachers. I can't tell you how proud I was of her.
All ready for the party at school....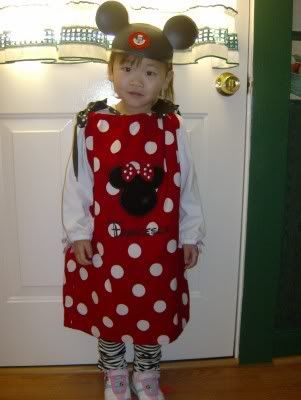 Going on the Halloween Parade...
Here they come....
Holding her teacher, Miss Nancy's hand!
(the little Tiger in the wagon is Francesca's little friend, Charlie! She talks about him non-stop! Her teacher, Miss Nancy told me they are the best of buds...isn't that too stink'n cute!)
After the parade, I did pick her up from school and we all headed for lunch at our local cafe. (During the winter months, Francesca & I will walk here and enjoy a little something for breakfast...just the two of us!...it is actually only a few blocks away from our house.)
Enjoying some lunch at our local cafe with Grandma & Auntie!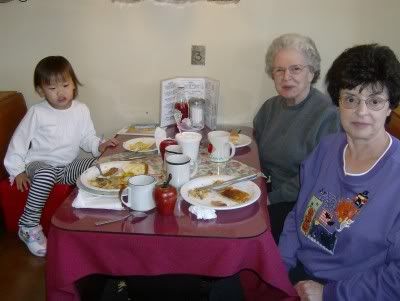 Last year, Francesca loved the fact of dressing up, but she did not like the fact of going to other peoples' houses and doing the 'trick or treat' thing...so I decided to take it slow this year with her. After she got up from her nap, I realized that her Minnie Mouse costume had chocolate on it & I didn't have time to wash it...so I asked her, what she wanted to be. Her response was, "Mulan!". I thought for a minute & knew I had a Mulan costume that I won on ebay back in February for $5.25! It was a little big (I was saving it for next year), but I went ahead and put it on her. She looked beautiful! (I didn't have time to get her a white flower for her hair as Mulan has on in the movie, but the ones we had worked beautifully). With a little blush & lip stick...she was ready to go. I decided to take her over our neighbor's house and she did a great job! Than we went to a neighbor of her Aunt Lisa's house & again, did just wonderfully! Our last stop was to her Auntie's house...and of course...she did wonderfully! After that, we decided to go & get something to eat before going to see G.G. at the rehab center. I would have done more trick or treating at more houses, but I didn't want to push her too much! I know next year...she'll be 100% ready for hitting as many houses as she can! (and I can't wait!)
My beautiful Mulan!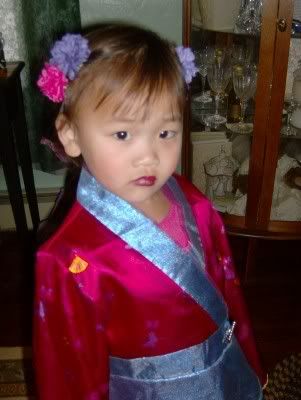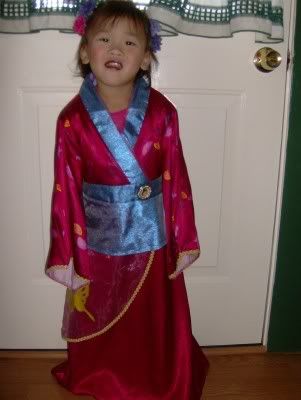 Here are some photos that were taken outside at Grandma's...
(I know I said this about a million times before...but isn't she beautiful! She just takes me breath away!)
I hope you all had a wonderful & safe Halloween!
Now it is time for me to take down our Halloween decorations and put them all away & start taking out the Christmas ones! And yes, I am one of those people who decorate before Thanksgiving...let the Christmas season (at least in our house) begin....