Our little Nascar fan!
Should we adjust the tire pressure?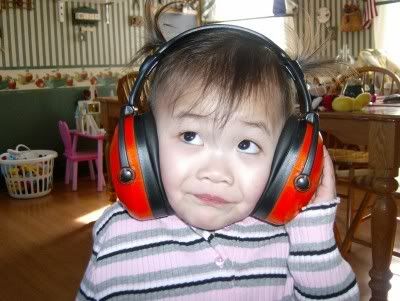 As I mention before, we have tickets this year for two of the Nascar races. Francesca loves watching the races on TV & she loves her Nascar books, that we always have to read to her at nap time & bed time...so we thought this year we take her to see one..or two of them. Since my husband is a huge Tony Stewart fan (and a big fan of Home Depot), Francesca had no choice but to follow in her father foot steps (now we have to give the guy a break..this is daughter #3 for him and we are waiting on his #4). Last week, Keith purchased a full Tony Stewart outfit for her that includes a TS jacket and he ordered these #20 ear protection headset for her to wear at the races. As soon as they were delivered, she had to put them on & has been wearing them ever since! She REALLY thinks she is a Nascar driver! I'll have to try to get video of her driving her Nascar around the kitchen table. I just hopes she does enjoy the races as much as she enjoys them from the TV.