Update...I just had to post some photos that were taken over the past few days! (you'll totally understand why once you read the whole post below...let's just say I really needed some cheering-up) Can you tell that I am crazy about my daughter!
First set of photos are from bath time up at Grandma's (it is hard to believe that I once took a bath there too). I just love the fact that my daughter got a chance to enjoy bath time at Grandma's in the kitchen sink as much as I did! My little nephew, Scotty, had to get in on the action as well...
Grandma, Scotty and Francesca getting all wet (not to mention the floor as well) and having such a blast!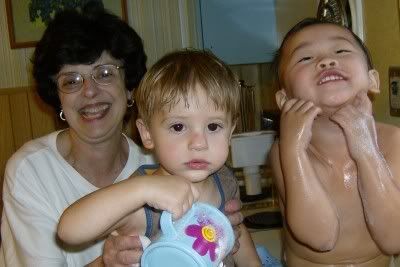 "I just love bath time at Grandma's...she lets me get anything & everything wet!"
The next set of photos is what I found when I went to check on Francesca during her nap time on Tuesday. Francesca was supposed to be sleeping, but I could hear her talking way too much (when she should have been trying to get some sleep time in)...so I went upstairs and found this going on...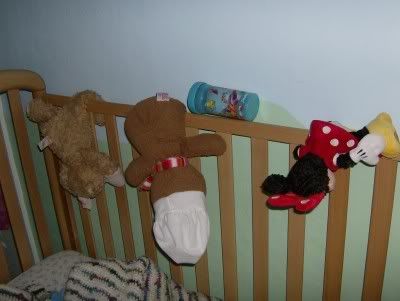 I just started laughing and asked what's "this"...pointing to Minnie Mouse, Teddy and Gingerbreadman...all about? All she said was..."bold" (which is what we tell her when she is acting up). I guess that was their time-outs.
(she is too stink'n cute!)
These last two photos were taken at my sister's house this morning after Francesca's doctor's appointment (more on that below). Check out my little nephew! Francesca tried to climb inside there too, after Scotty got out, but she got stuck. We all had a good laugh..which we all needed!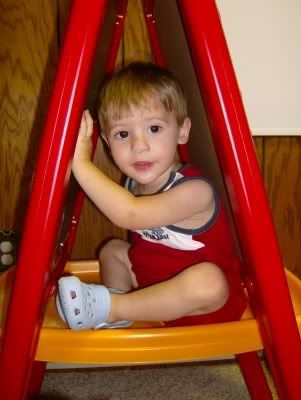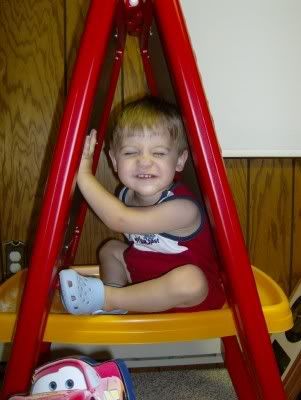 Today was Francesca's second doctor appointment with Geisinger's Pediatric Gastroenterology department (for her #2 problems) and let me start off by saying...my heart is breaking right now for my little girl! I explained to the specialist what has been going on since our last appointment (about Francesca going #2 at least 10x a day...not full bowel movements but there is always something...and complaining about her belly hurting). She than examined Francesca and found her lower belly is really hurting her when being pressed on (she never cried while being pressed on, she just tensed up and stood on her toes). She immediately send us for an x-ray of her "belly area" as we were calling it. Once the x-ray was done, we went back to the specialist to see what she had to say...this is where it gets hard for me....Francesca's intestines are almost completely blocked along with the colon and anus area (what she has been experiencing these past few weeks with the #2 happening 10xs a day is that she is having leakage...not a full bowel movement). The specialist couldn't believe that she is still eating the way she has been (which is very well) and that she isn't crying out 24/7 with the pressure and pain she must be experiencing. After talking over our options on how to get this problem taken care of...we decided that her best option is getting the treatment she needs at the hospital. She is schedule to have a professional "clean out" (to put it nicely) next Thursday on the 19th. A feeding tube will be inserted to administer the medicine to get the job done. I just want my little girl well and not to feel that pain anymore. I am so full of emotions right not, but I am remaining strong in front of her (she did so well at the doctor's today...even during the x ray she was a gem). The specialist did tell us that she will forever have this medical condition (some surgery can help but won't cure it). We...than she will always have to watch her diet and make sure she has normal, regular bowel movements.
We'll be finding out more once we go to the hospital next week.
Now onto some good news regarding our doctor's appointment...Francesca is now 38.5" tall and is 33.4 lbs.
I know this post is probably kind-of-choppy, but my mind is running on over drive right now. If I find out I missed anything that I should add...I'll add it to the post.