This past Saturday, we made plans with Grandma, Auntie, Aunt Lisa, Uncle Scott, and little
Scotty
to have breakfast with Santa at
Wegman's
. When I first asked Francesca if she wanted to go...she flat out said "NO", but as the date approached, she was really excited about going. Her only request was that she would
not
sit on his lap. I told her that she didn't have to, unless she wanted to, but I also told her that she did need to be nice to Santa...she needs to say hello and not whine or cry so the other children could enjoy spending time with Santa during his busy season. She was totally on-board with the whole thing.
Saturday morning as we headed to
Wegman's
, she was just so excited! She kept telling me exactly what she was going to say to Santa when she got her chance with him. Keith & I were still
a little
nervous, even though she seem so into it...just knowing how Francesca can be. Anyway, we ate our breakfast (which was so yummy!) and waited for Santa. When he arrived, Francesca was very excited to see him. He made his rounds to each table, taking time with each child present. While Santa was making his rounds, I was
holding
Francesca in my arms...showing her and explaining to her exactly what he was doing (he was not only talking to the other children, but he was handing out candy to them). When he headed to our table, she was a little shy about him coming over to her, but with a little "coaching" she said "Hello" to him and took the candy cane he offered to her. Than without any "coaching" she said to him, "Merry Christmas!". I was shocked! Santa went onto another table as the tears starting rolling down my face! I could not believe this is the same little girl who would scream her head off whenever someone would say hello to her (now she
still
does do that, but not as much or as bad). After giving her a lot of kisses and hugs...and telling her how proud we all are of her for being so nice to Santa, she asked if she could see him again. I asked her if she wanted to sit on his lap and she said, "NO"...so while Santa was getting ready to take his seat in the sleigh for some photos, I asked him if he could spare a little time for my daughter so she can tell
him
what she wants for Christmas (since she
will
not sit on your lap and of course, he said yes!). Francesca than told him that she would like to have some toys and a flashlight for Christmas. His response to her was that he would do his best to get her want she wants and than he patted her on the head.
Once everyone started lining up for the photo
opportunity
, Francesca than went to Keith and asked him if she could go see him again. So off in line they went. When it came time to get into Santa's sleigh, Francesca wasn't crazy about the idea, but was willing to go. That only lasted about 1
minute
because once she realized what was happening, she put her arms out to Keith and started crying. Once she was removed from the sleigh, she was back to her normal self. As we were putting on our coats to head home, Francesca turned to me and ask, "No more sitting on the sleigh, OK Mommy?" And I told her as long as you don't want to, you don't have to! What a kid!
It is a day I will always remember....
Francesca and Mommy waiting for Santa!
"Here's my CandyCane from Santa!"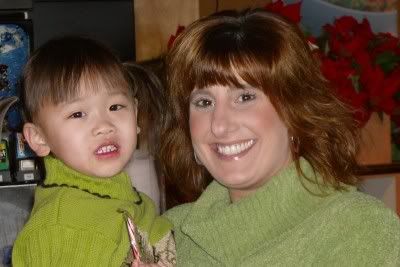 Sitting in Santa's sleigh...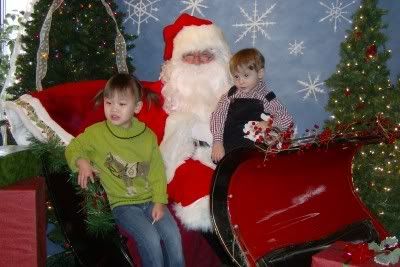 one minture later...realizing she was actually sitting in Santa's sleigh...yikes!
(check out that face!)