....our new Kitchen Aid Artisan Stand Mix Master (in the glossy cinnamon color)!
I have been asking for one of these for the past few months and after finding an amazing deal on one...I just had to buy it for myself as an early Christmas gift! Now, I have to admit, I have never been into baking or cooking before Francesca came into our lives, but since she has been home, I am always finding myself in the kitchen trying out new recipes (so far, I have made more goodies these past few weeks than I have over the past 30+ years of my life and according to my family, who are always so willing to try everything I make, swear that the end products are really great!). This year is the first for Francesca and I to try making some things together from scratch. Last week we made Chocolate Chewy & Peanut Butter-Marshmallow Bars and some pumpkin cupcakes. I didn't take any photos because I was too worried about what we were doing, but today when we were making the home-made pumpkin sweet & spicy breads for her teachers at school...we both got into the action & I finally got some photos! We had a blast and Francesca loved being my little helper for the day! She jumped right in wanting to help in such a big way. Just wait to you see the photos below....
My little helper...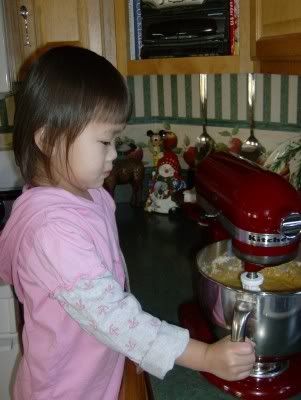 ("It's looking good, Ma!")
Now this is a photo that Francesca wanted to take...not bad for an almost three-year-old!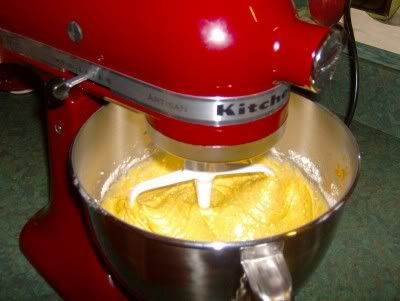 I have to say, with the holidays right around the corner, our lives have been very busy! My grandmother aka G.G. is finally coming home today from the rehab center and Grandpa & Grandma C are coming in this weekend for a quick visit with the grandkids....and we are still counting on Aunt Amy, Uncle Owen, and Katie to come in for New Years's. I finally got all of our presents wrapping done (with the exception of Francesca's) and I am just finishing up on my baking (which I am sure I am going to have to do more of this coming weekend)...and I have to make the sausage & peppers for Christmas day and my bread bowl & dill dip for Christmas Eve, which will both be celebrated at my Mom's house. I am going to try to get some more photos posted to the blog over the next few days. I have some great ones of Francesca outside...checking out her Mickey Mouse & Friends snowglobe that are priceless.
UPDATE!
Here is a photo of the sweet & spicy pumpkin breads fresh out of the oven!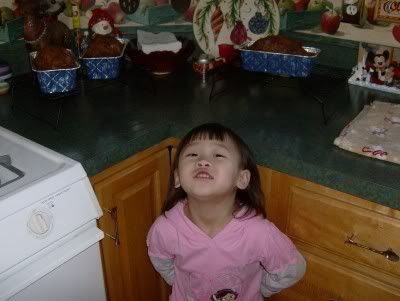 (of course, Francesca had to get into the photo action...she is just so proud of what she made for her teachers!)