As you may know (being that we are currently LID for Sofia in April 2007), I am a member of the CCAI April 2007 LID yahoo group. It is basically a support group for families going through their adoption and who are signed up with CCAI as their agency and are LID in April 2007. The group is a ton of fun...and I have met so many wonderful people there. One of the things that often happens to make the time past faster...during this long and very unpredictable wait...is for the members of the group to sign up for swaps that are design to get to know one another on a more personal level and to also let each member know that they are not alone out there in the process. I signed up for the 6 month "Secret Pal Gift Exchange" back in July and have been swapping gifts with my Secret Pal...who I figured out very quickly, I was also her secret pal. Her name is Sara (I am sure you heard of me referring to her many times on this blog before). Not only did Sara and I have each other in the Secret Pal exchange, but something more happen along the way...we became great friends! Our 6 month run has ended this month, but I know that this is only the beginning of our friendship.
I wanted to show you guys what I have received over the past six months for Sofia!
There are a ton of books...which being a great fan of reading...is just perfect!
There are a ton of hair bows...which Francesca feels that she can wear now...which we told her she could, but that she must take care of them because they are for her little sister, Sofia.
There is even a ladybug tote bag filled with all kinds of goodies for Sofia to enjoy and a pair of ladybug sandals for her to wear during the summer months!
But best gift I received was a sterling silver beaded bracelet with Francesca & Sofia names on it! It is just a little something for me...to share with my daughters for a-life-time!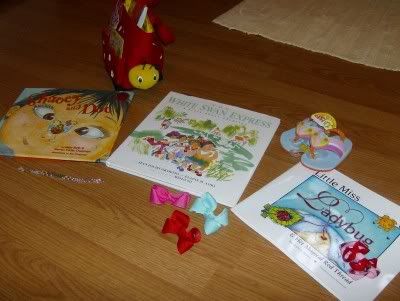 Thank you Sara for being such a wonderful "secret pal" and just for being the beautiful person you are inside & out!