At the last minute on Friday night (after having a nice supper out), Francesca and I went to watch our local firemen's parade (which she wasn't too crazy about...in Francesca's words, "Its too loud, Mommy!"). While we were waiting for the parade to start, we ran into our neighbors, Mary and her little boy, Gavin....and afterwards we all visited the carnival that our fire department also sponsor. Now, here is where she had all the fun! She couldn't get enough of the rides! (and they had plenty for the little ones)
Captain of the Boat!
Francesca and Gavin...the conductors!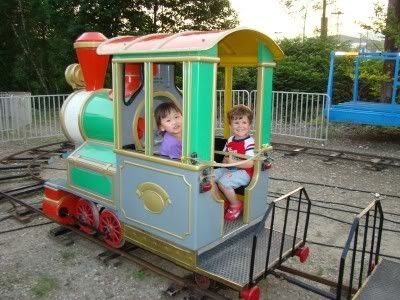 She may not have like the sound of the fire trucks' horns but she sure love driving one!
Since Keith couldn't make it home this weekend, Francesca and I asked Grandma if she would like to join us out for lunch on Saturday and of course, Grandma said, "yes"! When we asked Francesca where she wanted to go, she said, "Coopers!" So, Coopers again it was (if you don't remember, we went their for our Mother's Day celebration and she just loved it). Again, we had such a great time!
Francesca and Grandma posing with the 'Shark"!
Francesca getting a little too friendly with the 'Shark" (she is just so interested in all kinds of sea-creatures especially sharks!)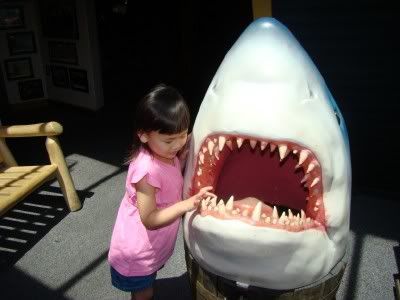 ***It has been so hot here in NEPA over the past few days that we really haven't been doing much playing around outside. So what do you do when it is HOT outside...you head to the BEACH! That's right...we are headed down to Papa and Grandma C beach house for visit. We are all so excited! I just hope Papa and Grandma C are ready for us! We are almost all packed up and ready to go. See you all when we get back!***