Disney Again?

You heard it here first, we are talking about going back to Disney...OK let me correct that one...Francesca has been asking us several times a day since arriving home from our last trip (Sept 2007) if we can go back. Keith and I have talked about going back some time this year, but we decided against it (unless we can come up with some extra funds). The good news is that we will be going back in Jan 2009 to celebrate Francesca's 4th Birthday there! And as of now, that's only a year away!!!

(it's just so hard when you can see in her eyes how much she loved Disney World and how bad she wants to go back...)

Here are two photos from our trip back in September. As much as I would really rather vacation some where else...after looking at these two photos how can we not go back to Disney any time soon?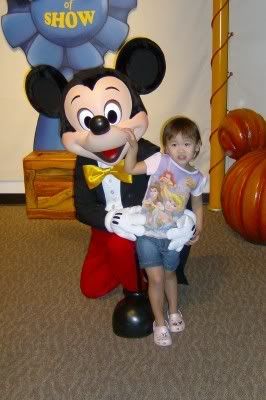 (doesn't that just melt your heart...)
"Who is that pretty girl?"
This is a question I asked Francesca this morning while getting her dressed for our day in my bedroom. She was standing on the bed, facing and looking into our dresser mirror. When I saw that she was checking herself out, I turned around and looked in the mirror as well and asked, "Who is that pretty girl?" and Francesca reply was, "Mommy!" Right at that moment, she turned to look at me and said again, "Mommy is the prettiest!" As the tears rolled down my cheeks, I gathered my daughter into my arms and told her..."No, you are the prettiest, most special girl in the world!" And still, my daughter always being the one who puts other people's needs ahead of her own said, "Thank You, Mommy, Sofia pretty and special too!" I said it before and I am saying it again, we are truly blessed with one very amazing, wonderful, beautiful daughter!