YES! After three days of working with going on the potty, Francesca did it today! (I didn't force it too much on
Wednesday
or Thursday because she was again having problems with her
poopies
). Anyway, this
morning
after she had her usual cup of milk while watching The Little
Einsteins
on Disney, I told her it was time for her to go on her potty. At first...she said no, but I gave her two choices, either she went on her little
girl's
potty while watching The Little Einsteins or she could sit on the big girl's potty with me while I get ready in the bathroom. She opted for her little potty and after
getting
her settled in, I went back to the bathroom to finish up. About five minutes later, I heard the sound of precious little feet running towards me and I asked her, "Did you go on the potty?"...she said, "Yes!"...I asked pee or poop and she said, "Pee-
eeeee
!" I must admit, I really didn't believe her, but after walking over to our bedroom & looking into the potty, there it was, full of pee! I started jumping up &
down
(she did as well) and gave her so much love, hugs, and kisses a 2 year old can stand! I also told her how proud I was of her and that she is finally becoming a big girl! After I got it cleaned out, we headed down stairs for her sticker. She picked out a basketball one and placed it on her arm & I marked her potty chart with a "
smiley
face" and the date! I know this is only the beginning and she really isn't
potty
trained, but what I wonderful thing it is for her to go on her own! I am one proud mommy today!
Francesca showing off her potty chart with the smiley face...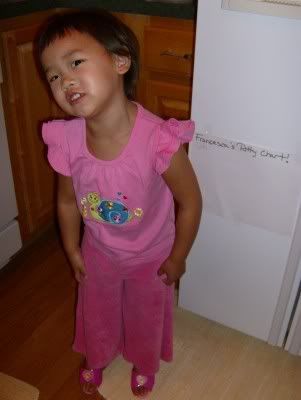 Francesca now showing off her basketball sticker!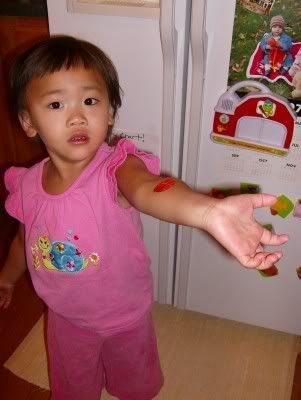 (after posting this message...she later placed the sticker on her potty chart as was planned in the beginning)
Now, these are some photos I just had to add!
My daughter's beautiful feet...showing them off in her princess heels!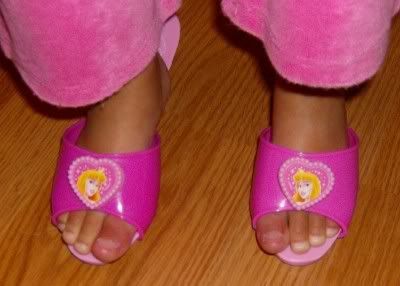 Auntie enjoying some book time with Francesca and Scotty!
Tomorrow, we head off to Philadelphia for The Wiggles' concert! Francesca is so excited! I just know she is going to have such a great time!