Yesterday, we all made the two-in-a-half hour trip to Philadelphia to go see one of Francesca's favorite musical group, The Wiggles...and boy let me tell you, it was a day full of many surprises...
We all left Grandma's house around 9:40AM..with Grandma, Mommy, Daddy, and Francesca in our vehicle and Aunt Lisa, Uncle Scott, and little Scotty in theirs. Grandma and Francesca had a blast on the way down...singing, talking, laughing, and reading (poor Grandma tried to close her eyes for a little bit, but Francesca kept saying, "Wake Up Grandma!"...so my poor mom didn't get to close her eyes). Anyway, once we arrived at the concert hall, Francesca was all excited! She had her Dorothy The Dinosaur hat on and was sitting in her seat patiently waiting for The Wiggles to come on stage. When the announcement was made that they were coming & the lights went low...she starting crying and shaking! At that moment, she was scrambling to get off her seat to jump into my lap. I tried to explain to her that The Wiggles were coming out & she didn't want any part of it. Keith offered to take her & she went willing...wanting to get so far away from the stage as possible. He took her out to the concession area and tried to calm her down. After a few minutes, I went in search for them...only to find them on top of the staircase with Daddy trying to show Francesca what was going on (The Wiggles were in full performance). After talking to her for some time about the show & what she is missing...and changing her diaper...she went back into the show (but, boy...her little heart was beating a thousand miles a minute). She didn't want to sit in her seat, but opted for sitting on Daddy's lap and wanted to wear her sunglasses and Dorothy hat throughout the rest of the show. She did have a good time...taking everything in...clapping when the song was over & calling out each Wiggles' name...Anthony, Jeff, Murray, Sam, Dorothy, Wags, Henry & Caption Feathersword and singing...all the while, never removing her eyes from the stage show. Once the show was over, she waved good-bye and asked her famous question, "One More Time, Please!" I asked if she enjoyed herself & she said, "Yes!". Than I asked what happened in the beginning & she said, "Cesca scared!" Oh, how my heart broke into two. Keith & I talked to her for some time letting her know that we would never let anything happen to her or at any time leave her there...and explained that Grandma, Aunt Lisa, Uncle Scott, and little Scotty would never let anything happen to her as well. We also showed her all the other children that were there enjoying themselves. I think she understood, for she was asking to go back to sit in her seat. I do really think she enjoyed the show, once she realized what was going on and I guess Keith and I have to go back to explaining everything that is going to happen before she experiences something "new" (we used to have to do this for the past year or so because she was so cautious with anything that wasn't familiar to her). All in all, we did have a great time...enjoy the photos!
Before the show...
Daddy and Francesca!
Mommy and Francesca!
Waiting for The Wiggles to come on...
Making funny faces...again...at Mommy!
Francesca & Mommy...still waiting for the show to start...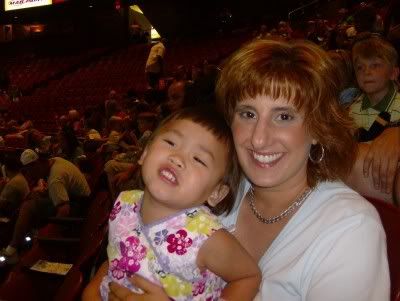 My Mom and Me!
During the show...
My favorite...Captain Feathersword!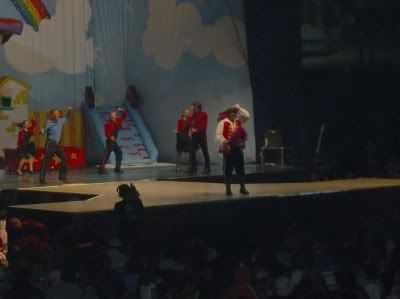 Holding my nephew, Little Scotty.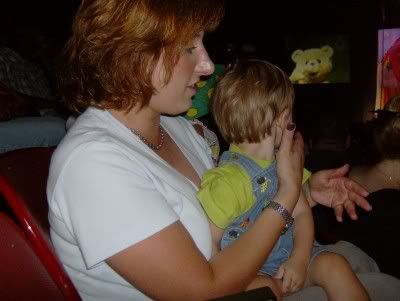 Coming to the end of the show...
The Big Red Car!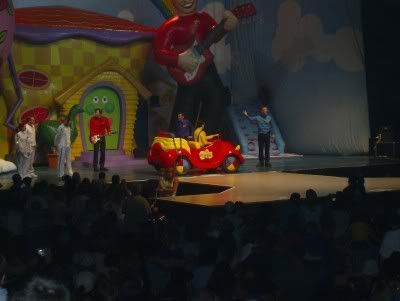 After the show...having some photo fun time!
My Family.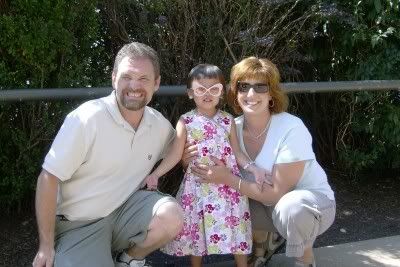 (they are everything to me!)
Captian Feathersword & Dorothy The Dinosaur...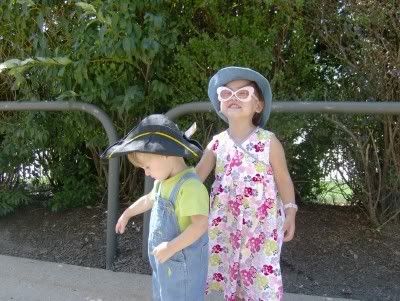 (trying to get two kids to stand still to have their picture taken was an event all in its own)
Grandma and Francesca!
Aunt Lisa, Uncle Scott, and Little Scotty!
Plus +
I decided to change the tunes on our web blog. I heard the first song on my good friend Sara's adoption blog "Party Of Five" and fell in love with it and had to add it to ours. The second song is currently one of Francesca's favorite! Whenever we get into the vehicle, she requests,"Faith Hill, Please!" So in honor of my beautiful daughter...here is your song too! I hope you enjoy them as much as we do...