These photos were taken over the past week. Some are from our church picnic with little Scotty...some are from Francesca's cousin, Luke, birthday party...and some are just of our darling Francesca enjoying time with the ones she loves!
Our Church Picnic...
Little Scotty enjoying the Big Bounce!
(Francesca wanted to go in this so bad last year, but we felt she was way too small for it. She wanted to go again in it this year, but changed her mind at the last minute and did not go in. When we asked why...she said, "It is too big!". I guess she just wasn't ready for the Big Bounce.)
Francesca watching Scotty and having a great time...just watching.
(My heart was breaking, but just wait until you see the photos from the birthday party!)
Luke's Birthday Party at Aunt Molly's house in Virginia!
Now, check out Francesca!
(yes, that is Daddy helping her out!)
With Luke's help, she wanted to try it without the hold of Daddy's hands! I couldn't believe my eyes! This is the same little girl that only the day before didn't want to go in the Big Bounce!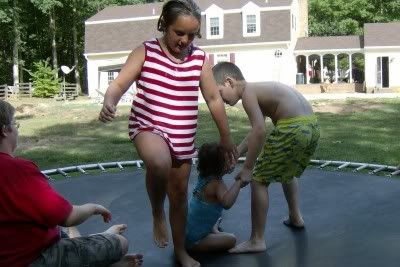 (in the photos are her cousins Zach, her cousin Sidney, and her cousin Luke, "the birthday boy")
Pool Time!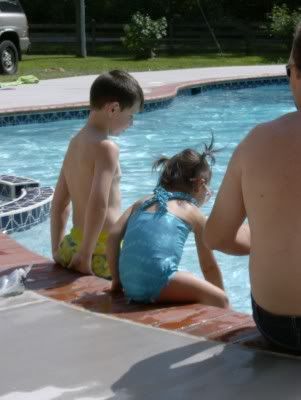 (again hanging with the birthday boy, cousin Luke and Daddy)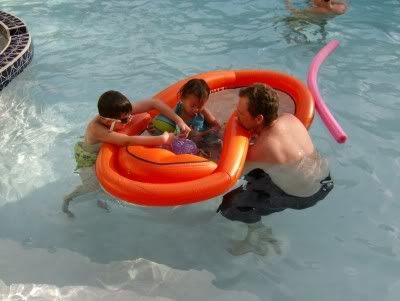 At Grandma's...
On the potty!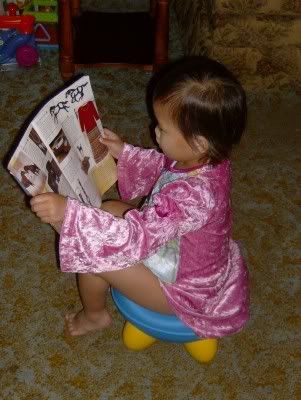 (typical girl...checking out a catalog!)
Enjoying time with Grandma!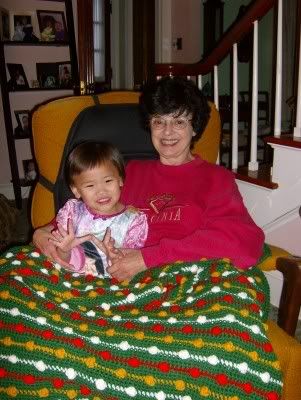 My little Mulan!
One of my favorite photos...check her out in the rain gear! Boots, rain coat, and hat...she is too stink'n cute for words!
(yes! the coat and boots match)
As for Francesca and her potty training, she is doing a great job! She has gone 5 times on the potty and all those times she had told us that she had to go. There were several days that we held off on the potty training because she was again having problems with her bowels, but since it seems we have that problem again "worked out" we are back to the potty training! (and yes...she has even poop on the potty twice!)