This past weekend was truly a wonderful one...
finally...Francesca eats some pizza!
As almost every Friday, Keith & I get pizza from The Library,take it up to my mom's and everyone comes over to enjoy it for some supper. Usually, Francesca will first eat the cheese, than lick off the sauce and finally eat the crust...well this past Friday...Francesca actually ate her pizza as most people do (holding the whole piece in her hands and taking a bit) for the first time! This is big for us in the Leonard household! Everyday, Francesca is again surprising me with doing something new and growing up a little more.
a day in the Pocono's at Lake Wallenpaupack
Keith and I also went away (yes, just the two of us) for the first time since bringing home Francesca. It was only for one night, but it was so hard (and Francesca was not happy that she wasn't going). It was so very nice to get away & spend some time with Keith, but we both missed Francesca so very much...we called Grandma a dozen times to check on her. The next morning, Grandma, GG, Auntie, Aunt Lisa, Uncle Scott, and Little Scotty...along with Francesca (of course!) drove up to the Paupack to meet us for lunch at The Boat House. I was counting down the minutes until her arrival. And the look on her face when she saw us...melted my heart! (my mom said that after 10 minutes of dropping her off she stopped crying and starting playing...she did ask for us when she went to bed and when she got up in the morning, but I truly think my little stinker was 100% playing us...knowing full well we were going away without her).
Francesca eating her pizza!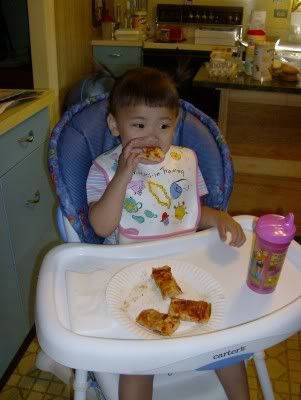 Photos from Sunday at The Paupack (Francesca just love it and she did get her feet wet!)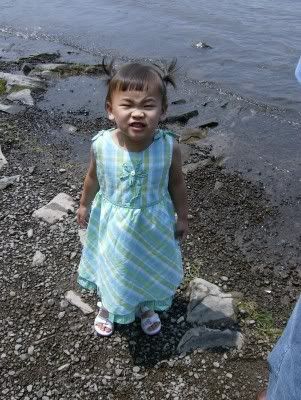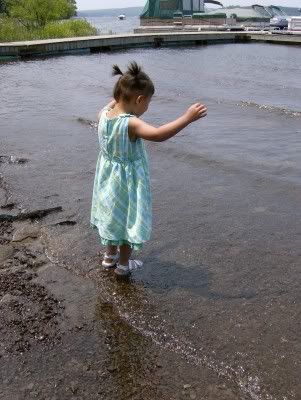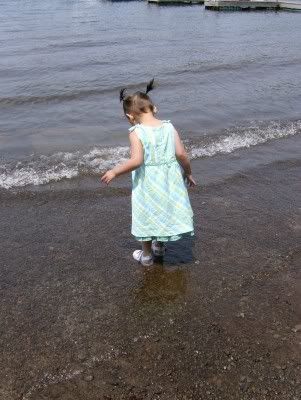 and finally...Happy Father's Day to all the Daddy's out there!