We can't wait to see this view!

Francesca just loves Mickey Mouse!

We all love the princesses, but I think Francesca's favorite is Belle.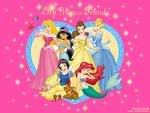 (the reason why I say Belle is because that is the princess that Francesca is always wanting to play, but I also think Cinderella can be a favorite...as well as Ariel aka Little Mermaid and Princess Aurora aka Sleeping Beatuy)
Francesca is just so excited that I have to share this all with you...I finally got around to booking our trip to Disney this year for September! I did it yesterday, while she was napping & I told her where we were going once she got up...so you can imagine how many times she asked me last night about going back to see Mickey Mouse. She is so excited as we are too!
Last time we stayed at Disney's Riverside, and even though it is a great resort, we decided to take the plunge this year and stay the Disney Grand Floridian, which we are really excited about! So far, it is Francesca, Keith, Grandma, and me going. We are really hoping that Aunt Lisa, Uncle Scott, little Scotty, and Auntie (aka Mela) decide to join us as well.