This weekend was a very important weekend for my daughter & our family. We had two wonderful family gatherings in honor of the Chinese New Year! Saturday's celebration was at our favorite restaurant, Twigs, and Sunday's celebration was at my Mom's house (in which she made a fantastic meal).
Our Beautiful Daughter!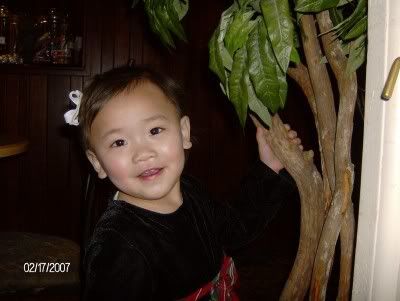 Daddy and his little girl!
(we are trying to get Francesca to smile...)
Aunt Lisa & Little Scotty
How Do I Look?
Francesca in her New Chinese Outfit!
How many Red Envelopes do I have?
Just had to add this one...Check out my nephew's little face! He sure loved his macaroni & gravy!
You're too cute Scotty!
We had such a wonderful time this past weekend celebrating with our daughter the start of a new Chinese year! Like I mention in the beginning of this post, we had a great lunch at our favorite restaurant, Twigs, yesterday with our very supportive family...Grandma, Auntie, Aunt Lisa, Uncle Scott and Scotty Jr. (G.G wasn't feeling well so she wasn't able to make it...)
Today's celebration was again another wonderful day with some amazing food! Grandma had a special meal made just for Francesca(thank you ma!)...home-made macaroni with gravy (that's what we call red sauce) and "to-die-for" chocolate cake with butter cream icing! Her house was decorated with so many Chinese decorations and everything was in the color red. Francesca even received a few red envelopes from other family members that came to join in on the celebration.
Francesca wore two different outfits...one for each day. The first one that is shown in the photos above was purchased at Kmart (can you believe it) and the second outfit was purchased at Walmart when we were in Nanchang back in November 2005!
This weekend was truly a weekend that we will never forget! I can't thank my family & friends for being so supportive, caring and loving! You guys are the best!
PS...we finally received our mail yesterday & yes...there was no 171H/797C approval included...UGH