My poor Land Rover...check out all the snow we got...maybe that's why we haven't gotten any mail? That LR3 is amazing in the snow. It can go anywhere! I just love it!!!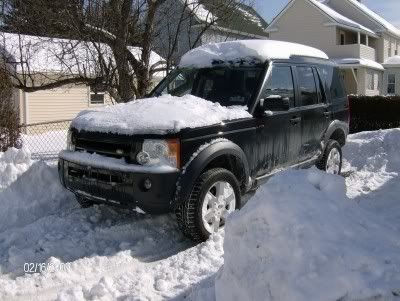 Snow! Snow! and more Snow! (view from our front porch)
(Sorry Francesca isn't in any of the photos. It is way too cold out there and she has some very dry skin and her poor lips are all cracked...my poor baby.)
For the past two days, we have not received any mail & I am getting a little worried! If we weren't waiting on our 171H/797C approval, I wouldn't care if we ever got mail again...
especially
any bills...but since we are waiting on one very important letter...I had to call the USPS this morning and find out whats going on.
Well...
because
of the major snow storm, no mail was
delivered
the past two days, but they are out today & according to Jim at USPS office, it is going to take a little longer than usual to get our mail because each carrier's load is double and they have to watch with the snow that is still out there! I just hope we get ours soon. This wait is driving me crazy!
(and no mail on Monday...another holiday ugh....)